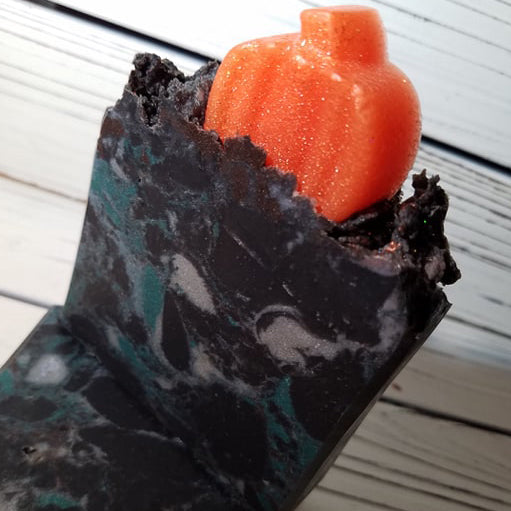 Goat Milk Soap | Headless Horseman
Fragrance: The scent is a perfect fall malt blend of fresh-picked pumpkin, nutmeg, blood orange, tangerine leaf, Italian bergamot, tangelo, sheer floral petals, finished with fermented warm vanilla.
Design: Handmade Natural Beauty presents this autumn/Halloween moisturizing goat milk soap. "Headless Horseman" is a gray, blue, dark green, and brown mixed soap in a black base and topped with a small orange pumpkin glycerin soap. Atop each bar is sprinkling of gold cosmetic glitter and a drizzling of micas.
Ingredients: Olive Oil, Goat Milk, Coconut Oil, Sodium Hydroxide, Castor Oil, Fragrance, Mica, Cosmetic Glitter. Top Orange "Pumpkin": Water, Sodium Hydroxide, Coconut, Palm, Castor, Safflower, Glycerin, Sorbitol (from berries), Sorbitan Oleate, Soy Protein, Mica.

Please note: All soaps are handmade and multiple batches may be made. Each bar is uniquely special and may look slightly different than what is pictured.