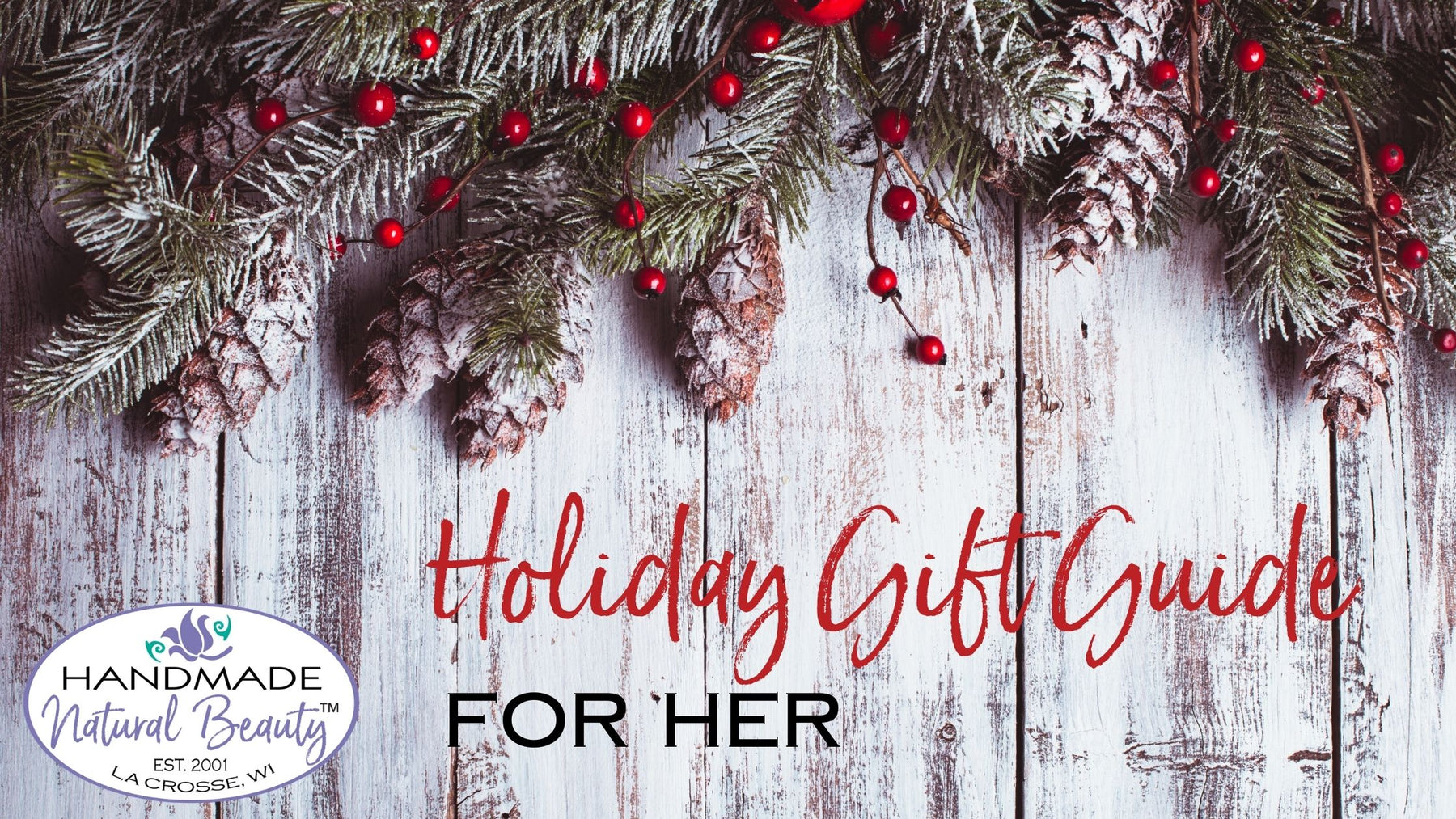 Holiday Gift Guide for HER
Here are some great gift ideas to pamper her this holiday season and beyond!
Gift self-care and natural beauty this holiday season! This specially curated 12 Days of Bath and Beauty Advent Calendar is filled with special bath and body treats! Start mid-Dec and count down to Christmas or start at Christmas for 12 days of pampering well into the new year!
Includes:
• 3 Stress Less Lavender Shower Tabs
• Goat Milk Lotion
• 2 Goat Milk Soap Samples
• Lip Balm
• 2 Bubbling Bath Bomb Creamers
• Lip Sugar Scrub
• Snowflake Glycerin Guest Soaps
• Lotion Bar
• Peppermint & Tea Tree Whipped Foot Cream
• Foaming Sugar Scrub
• Ornament Glycerin Guest Soaps
Individually wrapped and beautifully presented! Ribbon and decor may vary slightly from what is pictured but will be equally beautiful and festive!
The holidays in particular can be a particularly stressful time. What a perfect gift to a loved one who deserves some extra relaxation and TLC. The Stress Less Gift Set features our Stress Relief Lavender Essential Oil blend and pure Lavender Essential Oil products.
Includes:
• Lavender Shea Butter Soap
• Stress Less Lavender Aromatherapy Soaking Bath Salts
• Stress Less Shower Tab pack
• Aromatherapy Bracelet/Lavender Essential Oil Ornament
• Packaged in a decorated gift box.
(Gift box design may vary from the one pictured.)
Who on your list is an especially hard-worker or suffers from aches and pains? Come to the rescue with our Muscle Rescue Gift Set featuring our best-selling and beloved, Ache Away Muscle Rub Stick. (p.s. don't forget to snag a couple extra sticks for stocking stuffers!)
Includes:
• Muscle Rub Stick
• Muscle Rescue Aromatherapy Soaking Bath Salts
• 4 points Massager
• Packaged nicely in a gift box ready for gift-giving!
(Box style may vary from what is shown.)
The Natural Beauty Gift Box is a beautiful and pampering gift which allows you to custom create an assortment of products in your loved ones' favorite scent or select a mix for them to try out!
Includes YOUR CHOICE of: 
• 6 oz. Foaming Sugar Scrub
• Goat Milk Soap
• 2 oz. Goat Milk Lotion
• Lip Balm
• Packaged in a Gift Box (design may vary from box shown)
An elegant hostess gift or gift for the woman who has everything. Who wouldn't love a clean burning Handmade Soy Candle made with high quality soy wax? Partner with some adorable Fancy Matches which feature a strike pad on the bottom of their glass bottle.
These last 3 pampering gift ideas are super thoughtful gifts that can keep giving for multiple months if desired. Each have the option of an ongoing monthly subscription which automatically is billed each month until cancelled. No minimum number of months required for monthly subscription. Or you can pre-pay for a 3 month, 6 month or even a full year of monthly gifts that will be sent to your loved one (or YOU... don't forget to be using this guide to drop some hints of your own!!). 
These boxes are my pride and joy, my labor of love. Each month there is a specially curated theme of products and scents. Sometimes the items are popular favorites, sometimes new debuting products and sometimes completely exclusive only to the box. 
The Bathing Beauty Box is perfect for the bath lover! Every monthly box will include our can't live without:

• Foaming Bath Bomb Creamers
• Bath Bomb Donut or Jumbo Bath Bomb!

In addition, we'll also include an additional surprise item or two such as:

• Aromatherapy Bath Salts
• Bubble Bath
• Bubble Bars
• Bubble Bath Truffles

Either way, you'll have enough pampering goodies for at least 10-12 luxurious baths! 
The Natural Beauty Box offers our most popular handmade luxurious products for a beautiful start to each day. Every monthly box will include:

• TWO Handmade Soaps
• Moisturizer

In addition, we'll also include two additional surprise items such as:

• Aromatherapy Shower Tabs
• Foaming Sugar Scrubs
• Body/Linen/Room Sprays
• Foot Care Products
And so many more options!

Because we realize that not everyone has a bathtub, bath specific items are not included in the Natural Beauty Box.
The Ultimate Natural Beauty Box is for you if you are looking for the ultimate pampering experience! Choose this box and your loved one is in for a real luxurious treat!

They will receive:

• The Natural Beauty Box AND
• The Bathing Beauty Box AND
• An EXCLUSIVE Surprise GIFT

All shipped together at a super awesome price!
These are just a few of the many pampering thoughtful gifts that we provide. As always, I'm happy to put together custom gift baskets or even custom items for gifts for employees, clients, etc. Feel free to give me a call for all your custom gifting needs 608-782-SOAP (7627).
Happy Holidays!